The website and corresponding book, "The Top Ten," tackles that very question, asking celebrated writers to list their favorite 10 books. It's so simple yet incredibly fascinating to see which authors select which books and what genres they love.
A few of our own Anisfield-Wolf authors have been featured on the site—Joyce Carol Oates and Edwidge Danticat. Check out their picks below:
Top Ten List for Edwidge Danticat
Their Eyes Were Watching God by Zora Neale Hurston
The Stranger by Albert Camus
Germinal by Emile Zola
Invisible Man by Ralph Ellison
One Hundred Years of Solitude by Gabriel García Márquez
Beloved by Toni Morrison
Night by Elie Wiesel
The Color Purple by Alice Walker
The Trial by Franz Kafka
Masters of the Dew by Jacques Roumain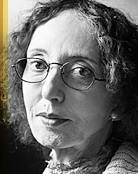 Top Ten List for Joyce Carol Oates
Crime and Punishment by Fyodor Dostoevsky
Ulysses by James Joyce
The Sound and the Fury by William Faulkner
The Poems of Emily Dickinson by Emily Dickinson
The Stories of Franz Kafka by Franz Kafka
The Red and the Black by Stendhal
The Rainbow by D.H. Lawrence
Women in Love by D.H. Lawrence
Moby-Dick by Herman Melville
Adventures of Huckleberry Finn by Mark Twain
Are any of these books on your top 10 list? Share your favorites in the comments below!