Did you know that fewer than half of U.S. families read to their kindergarten-age children on a daily basis? That children who grow up with books in the home score better on standardized reading tests? That childhood literacy is closely linked to adult literacy? This is part of the reason why it is so important to instill in children a love of reading early on. 
Sydney's Book Club, a Pennsylvania-area nonprofit dedicated to early literacy, has kicked off its 20-4-30 literacy challenge for April. Every day, parents should read to their children for 20 minutes a day for the entire month of April.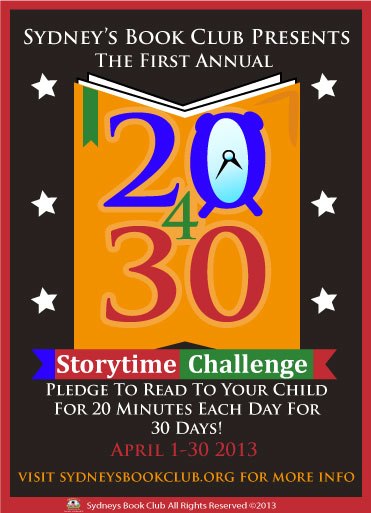 The Sydney Book Club has hit upon a promising approach to increase literary rates in the United States. Participants can use this opportunity to introduce multicultural literature to their children. We have a list of resources for parents and educators to help them identify age-appropriate books (featuring protagonists from a variety of backgrounds) for their children and students (find it here). Noted author and parenting blogger Denene Millner also featured a list of children's books featuring African-American characters on her blog, MyBrownBaby, which could be a good starting point for any parents looking to increase the diversity of their children's book library. 
Will you be joining in on this challenge?