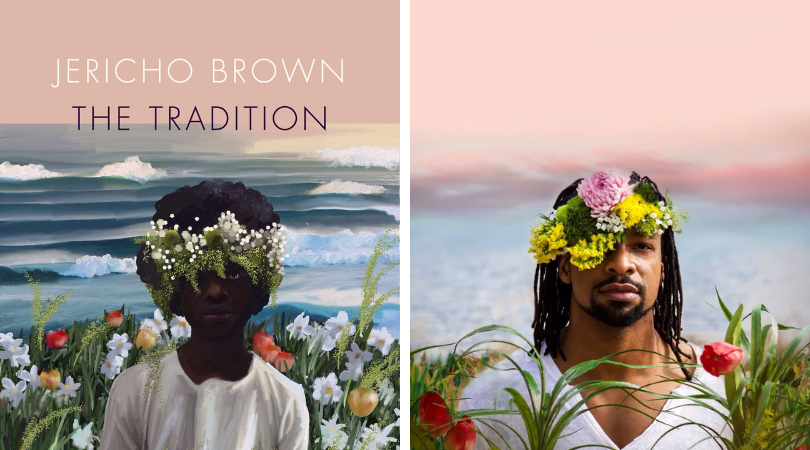 The cover of Jericho Brown's new poetry collection, The Tradition, features a young black boy, perhaps 10 years old, surrounded in a lush field of flowers, ocean waves at his back.
It's beauty is evident, but it intimidated Brown when he first saw it. "It's so gorgeous and it does speak directly to the poems," he told The Rumpus. "I kept wondering, "Are these poems good enough for this goddamn cover?"
Let that answer be an emphatic yes.
This work, stitched together over 51 poems, is a meditation on grief, violence, fatherhood, trauma, sexuality and beauty. The Tradition is his third book, the follow-up to 2014's The New Testament, which won the Anisfield-Wolf award in poetry.
For this new book, Brown laments the pain of heartbreak, family erosion, gun violence, and self-exploration. In "Riddle," he sneers at white supremacy, evoking the wail of Emmett Till's mother, Mamie, as the vocalization of its destruction: We do not know the history/Of this nation in ourselves. We/Do not know the history of our/Selves on this planet because/We do not have to know what/We believe we own.
He plays with religion and racism in "Stake," which begins: I am a they in most of America/Someone who feels lost in the forest/Of we, so he can't imagine/A single tree. He can't bear it.
In The Tradition, Brown centers what he calls "the duplex," a new poetry form he originated that "guts the sonnet" and experiments with structure over 7 couplets, beginning and ending with the same line. The first of these poems appears in the first section and builds tension over its 14 lines:
A poem is a gesture toward home.
It makes dark demands I call my own.
Memory makes demands darker than my own:
My last love drove a burgundy car.
My first love drove a burgundy car.
He was fast and awful, tall as my father.
Steadfast and awful, my tall father
Hit hard as a hailstorm. He'd leave marks.
Light rain hits easy but leaves its own mark
Like the sound of a mother weeping again.
Like the sound of my mother weeping again,
No sound beating ends where it began.
None of the beaten end up how we began.
A poem is a gesture toward home.
"[The sonnet's] been pushed down my throat the entirety of my life," Brown said. "There is something in me that doesn't like that, and doesn't trust that, because I'm a rebellious human being. I need to be a rebellious human being because I'm black and gay in this nation and in this world which has not been good to me or anybody like me."
Each section of The Tradition draws readers forward, hungrily. The pacing is intentional, though it's still hard to catch your breath. It's an intimate collection that prides itself on its vulnerability. Readers who pick up a copy will be awed, from cover to closing stanza.