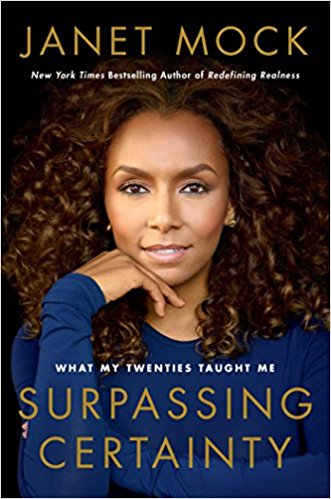 Simon & Schuster, 256 pp. $24.99
In the midst of the book tour for her second memoir, "Surpassing Certainty: What My Twenties Taught Me," Janet Mock spoke of the pitfalls of being labeled a transgender activist.
"There's a burden of responsibility for me to show up correct — in my head, if I don't do it right, then I'll get shut out, and then other trans women of color will be shut out," she told the New York Times. "I'm still grappling with all of that."
If her second book is any indication, Mock, 34, is working out how to be the face of a movement wider than one lane. The New York City transplant has been near the front of the LGBTQ movement since 2011, when she published a landmark essay for Marie Claire depicting herself as a young, biracial transgender woman growing up in Hawaii. Her first memoir, "Redefining Realness," came out three years later. In the years since, she addressed transgender topics for The New Yorker, Marie Claire, and The Advocate, and produced an HBO documentary, "The Trans List," in 2016.
But she has also spoken in arenas that don't hinge on identity. In 2015 she hosted "So POPular," a weekly pop culture show for MSNBC and most recently, she became the weekly voice of "Never Before," a Lena Dunham-produced podcast with guests like Congresswoman Maxine Waters.
If "Redefining Realness" dealt with Mock's personal journey to finding comfort in her own body, "Surpassing Certainty" acts as a proto blueprint to "show up for that girl who is yearning to be let in, to be accepted," she writes. "My twenties prepared me to be seen fully—in my own eyes, in the eyes of the people I knew and love, and in the eyes of the public I invited into my life to know me."
Telling the story of her twenties, Mock shares universal milestones: moving away from home, finding a first job, falling in love. This book, which ends with Mock's 30th birthday party, is a coming-of-age story in which the lenses are varied. Professionally and socially, Mock was not "out" for a majority of her 20s, a decision she made while trying to develop her boundaries: "I began to see disclosure not so much as an obligation but as a gift. My story was mine, and I felt a person had to earn the privilege of hearing it. Random suitors and passing dalliances were no longer deserving of me or my story."
She shares her narrative in these pages unflinchingly, her title a nod to an essay from poet Audre Lorde: "And at last you'll know with surpassing certainty that only one thing is more frightening than speaking your truth. And that is not speaking."
That truth is sometimes messy, as Mock introduces us to her first husband, a figure she omitted from her first memoir. Their four-year marriage, full of separation and estrangement, spans the majority of the new book, ending only as Mock gets serious with a new suitor, her current husband. The love life of transgender women of color has rarely been a mainstream concern, so Mock's inclusion of this intimacy rings new and progressive.
Her writing is crisp and lyrical, and Mock is clearly influenced by feminist writers such as bell hooks. She knows how to fold historical context into her musings, whether it's climbing the corporate ladder or dealing with micro-agressions at a predominately white university.
Mock echoes Lorde, addressing the women looking for guidance in her text: "I've reached a place where silence is no longer an option for me. My survival depends on my ability to speak truth to power, not just for myself. But for us."