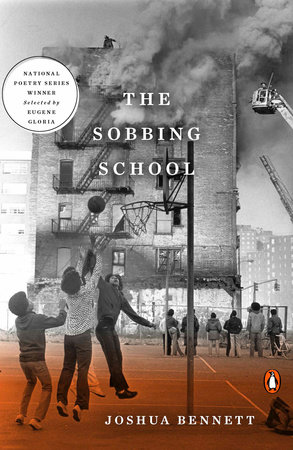 Watching Joshua Bennett perform his poetry is something like watching a Baptist preacher deliver a Sunday sermon.
Once on stage, his face grows serious, his hands move emphatically and he plays with volume and silence in his delivery, using both to drive the audience to a rousing "Amen."
The New York native captures that same fire in his poetry collection, "The Sobbing School." Winner of the National Poetry Series, selected by Anisfield-Wolf author Eugene Gloria, Bennett's debut strikes a powerful blow on the first page and doesn't let up. By calling forth figures such as Richard Wright, DMX, and Ella Fitzgerald, it's a modern collection with a timeless quality.
The title poem borrows its name from Zora Neale Hurston's essay "How It Feels to Be Colored Me," in which she questions the presumed tragedy of blackness: "I do not belong to the sobbing school of Negrohood who hold that nature somehow has given them a lowdown dirty deal and whose feelings are all hurt about it….No, I do not weep at the world – I am too busy sharpening my oyster knife."
The 42 poems in "The Sobbing School" examine education in all its forms – from the lessons passed down from father to son, from the scrapes and blows of a playground fight, from the heartbreak of a first love. This debut reads like a journal, calling forth Bennett's skill of introspection over events past and present. This talent is especially obvious in poems like "Preface to a Twenty-Volume Regicide Note," in which Bennett declares:
Lately, I've become accustomed to the way
each newly dead face flashes like a crushed fire
-work across the screen. The red mass
of each name. How each name settles,
a fistful of ash at the back of the throat.
I don't hope for cease-fire much, if you
must know. I don't pray for rain.
Bennett opens the door to the classroom with "In Defense of Henry Box Brown," an ode to the 19th century enslaved man who mailed himself to freedom in a wooden crate and his subsequent stint as a magician who re-enacted his famous escape in England. Here, Bennett offers sympathy, telling him, "I too have signed over the rights to all my best wounds…I know the respectable man enjoys a dark body best when it comes with a good cry thrown in."
For readers who were first introduced to Bennett as a spoken word poet, these poems will feel familiar, cased in the energy that punctuates most of his live performances. All the poems don't land the same, but it's almost impossible to not "hear" them in Bennett's voice.
In "Praise Song for the Table in the Cafeteria Where All the Black Boys Sat Together During a Block, Laughing Too Loudly," Bennett gives voice to a demographic often overlooked in poetry:
what's a biography worth
If your boys won't let it stretch?
Who in their right mind would want us,
our threadbare lives, without a little legend
to sweeten the frame?
"Part of what I wanted to do with this book was not only celebrate, but linger with the need to mourn, especially living in a historical moment where black death is constantly on loop," Bennett said in a recent interview. "What can sustain us? If, for some of us, it's not the spaces where we once felt safe or made whole, what can we imagine? What can we make?"
Bennett's contribution, tucked between the covers of "The Sobbing School," is a worthy effort.