Last week we celebrated the inaugural Cleveland Book Week (CBW), a series of special events to celebrate Anisfield-Wolf Book Award winners past and present, and showcase people and organizations working to promote literature and literacy in Greater Cleveland. Throughout the week, in coordination with a number of community partners, we hosted an array of events to engage audiences of all sizes and interests. See what CBW was all about in this visual recap:
The Cleveland Flea goes literary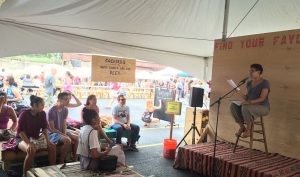 We kicked off the week with a special CBW Edition of the Cleveland Flea. In the CBW tent, local writers – including David Giffels, Eva Barrett, Dave Lucas, Ali McClain, Michael Clune, Aubrey Hirsch and RA Washington – read their work from the author's stage. Nearby, local independent booksellers Appletree Books, Guide to Kulchur, Mac's Backs and Loganberry Books set up shop.
Swapping books in Public Square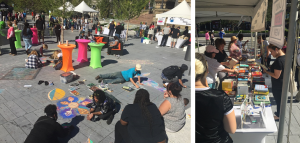 A free book swap on Cleveland's Public Square drew an all-ages crowd for an afternoon of free books, ice cream, chalk art and live performances. Literary and literacy-focused nonprofit organizations shared information with attendees, and local libraries offered registration for new library cards. The afternoon was truly one for the books!
Celebrating this year's Anisfield-Wolf Book Award-winning authors
Throughout the week, each of this year's Anisfield-Wolf Book Award winners was honored at their own event in the community. From a poetry reading in a planetarium, to a tap dance performances alongside local dancers, these author events gave Greater Clevelanders an opportunity to connect with this year's Ansifield-Wolf Book Award winners through intimate and engaging programs.
A star-studded evening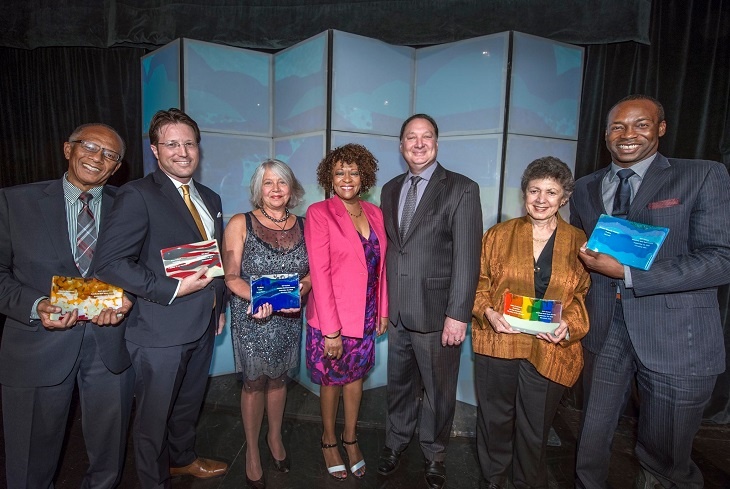 The centerpiece of Cleveland Book Week 2016 was the 81st Annual Anisfield-Wolf Book Awards Ceremony. A sold-out crowd gathered at the Ohio Theatre in Playhouse Square to celebrate this year's winners. Former U.S. Poet Laureate Rita Dove, who herself was feted at a CBW event the night before, hosted the ceremony.