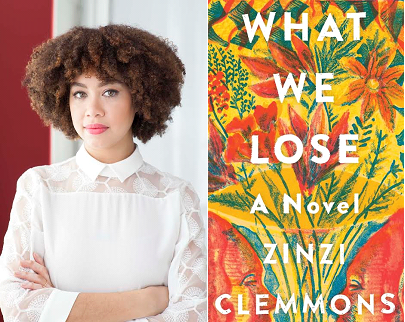 Viking, 207 pp, $22
In Zinzi Clemmons' debut novel, "What We Lose," grief shadows every page. But like Elizabeth Alexander's "The Light of the World," another examination of life amid a death, it is compelling.
A loosely autobiographical story, this book is about the pain of losing a mother. Like her protagonist Thandi, Clemmons, 32, is the child of a South African mother and African-American father, born and raised in Philadelphia with summers and long vacations spent in Johannesburg. And just like Thandi, Clemmons left college to help with her mother's care in her remaining days.
"What We Lose" explores grief, cultural identity, politics, colorism, and love through stream-of-consciousness vignettes. A creative writing professor at Los Angeles' Colburn Conservatory of Music and Occidental College, Clemmons conjures Thandi to express complicated emotional terrain:
"Loss is a straightforward equation: 2-1=1. A person is there, then she is not. But a loss is beyond numbers, as well as sadness, and depression, and guilt, and ecstasy, and hope, and nostalgia—all these emotions that experts tell us come along with death. Minus one person equals all of these in unpredictable combinations. It is a sunny day that feels completely gray, and laughter in the midst of sadness. It is utter confusion. It makes no sense."
At its core, "What We Lose" is a novel about what anchors us. Thandi finds the answer shifts: familial ties sustain her in one period, the love of close friends in another. Once she has lost her mother, however, the greatest anchor of her young life disappeared. Thandi is an intriguing character, at once impulsive and afraid, searching for something to steady her: "Each day I feel less like the person I was the day before, my body hurtling so fast in one direction that my mind cannot keep pace."
In short, searing sections, Clemmons makes us feel as if we, too, have suffered a loss. She dabbles with visual devices to hit different emotions; in one chapter Thandi draws a graph to mathematically depict her unrelenting grief.
A moving novel with few extraneous passages, "What We Lose" is a stellar read from an author with a strong perspective. She studied at Brown and Columbia, where she was mentored by Paul Beatty and helped found Apogee Journal.
Vogue's critic Megan O'Grady hailed "What We Lose" as the debut novel of the year, suggesting Clemmons as the "next-generation Claudia Rankine." Generous praise, but Clemmons' first book indicates she stands on her own name, and her own merit, just fine.