Washington Post reporter Wil Haygood stood in the pulpit at the Amasa Stone Chapel on the Case Western Reserve University campus, thanking university President Barbara Snyder for an impressive introduction and riffing on whether he was a strong enough high school student in Columbus, Ohio, to have been admitted to the Cleveland research institution.
He doubted it. "I graduated 'summa cum lucky,' he riffed.
All joking aside, Haygood's intellect and credentials are what carried him to the university to deliver its keynote at the annual Martin Luther King Jr convocation. For more than 20 years, Haygood has covered some defining moments across the globe. As an international correspondent for the Boston Globe and Washington Post, he was captured by rebels in Somalia while covering its civil war and stood outside the South African prison when Nelson Mandela was released. He spent 33 straight days on the ground in New Orleans after Hurricane Katrina. And the 2011 Guggenheim fellow delivered his keynote without a single note.
Haygood indicated that his most important assignment might well have been his discovery and coverage of one man, Eugene Allen, a retired White House butler who served eight presidents over his 34 years.
In 2008, Haygood was reporting on then-Senator Barack Obama when a North Carolina campaign stop gave Haygood a strong sense that Obama would win. Reflecting on the historical significance of the first African-American president, he asked for time off the campaign trail to find a White House staffer who served dduring the civil rights movement, for whom the election would have special meaning. With his editor's limited blessing (he gave Haygood two weeks), he started searching, and took a phone call from a woman who said that a fellow named Eugene Allen would fit the bill.  Haygood called 55 "Eugene Allens" listed in the Washington, D.C. phone book. He struck gold on the 56th call.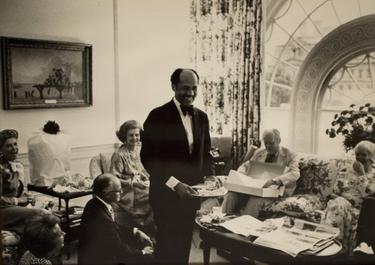 Their initial meeting convinced Haygood this Eugene Allen personified the piece of history he had been looking for. As the conversation progressed, Allen invited Haygood into the basement of his quiet D.C. home. As he flicked on the light, Haygood was struck by the testimony of objects: watercolors painted for Allen by Dwight Eisenhower, a tie clip from John Kennedy and framed photographs of the butler with each American president.
"Have you ever told your story before? Has anyone ever written about you?" Haygood asked.
"If you think I'm worthy, you'd be the first," Eugene replied.
Haygood's journalistic instincts led to a front-page story, "
A Butler Well Served By This Election
," published three days after the 2008 election. It quickly got Hollywood's attention. The Weinstein Company bought the rights to the story and cast Oscar winner Forest Whitaker to portray Cecil Gaines, the fictional character loosely based on Allen. While the movie went into production, Haygood turned to a book version,
"The Butler: A Witness to History,
" filling in the dignity and details.
Haygood and Allen were VIP guests on that cold January day that Barack Obama was sworn in as the nation's 44th president. "You never dreamed that you could dream of this moment," Haygood recalls Allen saying. "He said 'dream' twice – that's how unbelievable it was."
Allen died in 2010 at 90. President Obama released a statement read at the funeral, thanking him for his years of service and citing Allen's life as important piece to American history.
After his 1986 retirement, Allen himself reflected upon his White House years as part of a Smithsonian project on White House staff.
"If I had to do it all over again, I think I'd do the same thing," Allen said. "After all, there were many things that I never would have seen in life…I've seen every leader in the world—kings, queens, prime ministers. I was loyal to the White House, I loved it. After so many years, it was just a part of me."