how to get over  — the debut poetry collection from t'ai freedom ford — is part instruction manual, part black culture guidebook and part handing the mic to everyone from Harriet Tubman to Rodney King.
"Every single word I write is under the auspices of my ancestors," ford declares.  The Cave Canem graduate gives them their say in 57 poems covering nearly 250 years of pain and beauty.
ford, who teaches English in a New York City high school, leans into poetry with urgency—read this and read it now. She divides her book into four sections – Live, Lie, Love, and Die – each building on the architecture of the segment before. The 16 poems that comprise "Die" are the strongest of the collection. If you pick up how to get over, read "autopsy of a not dead father" first.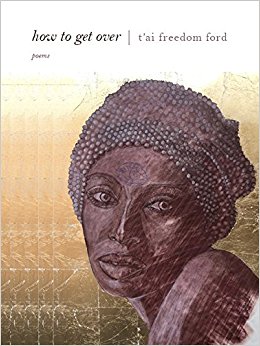 Anisfield-Wolf poetry winner Tyehimba Jess praises the collection for its message of deliverance: "This book has come just in time for all us who've been under the gun, under false pretense, under arrest, under the influence, and burying our hearts underground."
Film festival goers might have seen ford in the recent documentary "The Revival: The Women and the Word," where she hit the stage nightly on an eight-city tour along with four other artists. There, her poetry stood out for its vibrancy and punch; here, that energy continues and ripples from chapter to chapter.
"Namesake" is one standout, grappling with the politics of what we answer to:
sometimes
the name too old for you — already rust in the mouth of a newborn     torn
from some grandmama's past         her fast legacy simmering in the ground
& sometimes the name don't sound right in your bones   gathers in the
joints & aches before the rain comen    vibrates your spine toward curve
& sometimes the name you don't deserve — too grand for all your regular-
ness it blots you invisible
She gives readers an abbreviated look at her family tree in "big bang theory," giving praise to the matriarch of the Ford family, Lillie Mae, and the children she birthed:
                she buried all the men with Jesus
on her breath. and when her big-boned
self big-banged to dust, we didn't call
it death. we called it magic.
Like Claudia Rankine's "Citizen," ford elevates pain into introspective art, carefully connecting the dots between what it means to be black and what it means to be free. how to get over rejoices in the space where both are possible.