by Lisa Nielson
A colleague at the Cleveland Council on World Affairs generously nominated me for a professional exchange, sponsored by World Learning, that has me packing my bags for India.
But what about books? How do I prepare for my first visit to a place with over 4,000 years of history? While I've lived in Jerusalem and Damascus – no slouches in the antiquity department – the weight of time and the linguistic, environmental and cultural diversity of India are daunting. Armed with a list of helpful articles and suggested reading from the marvelous program director at World Learning, Dianne Neville, I went to the public library.
Because I'm a medievalist, everything past the 17th century is distressingly recent. My association with the Anisfield-Wolf Book Awards helps me remember that the modern and contemporary are not foreign countries. The Anisfield-Wolf canon speaks with the past without flinching. It has helped me gaze directly at the present.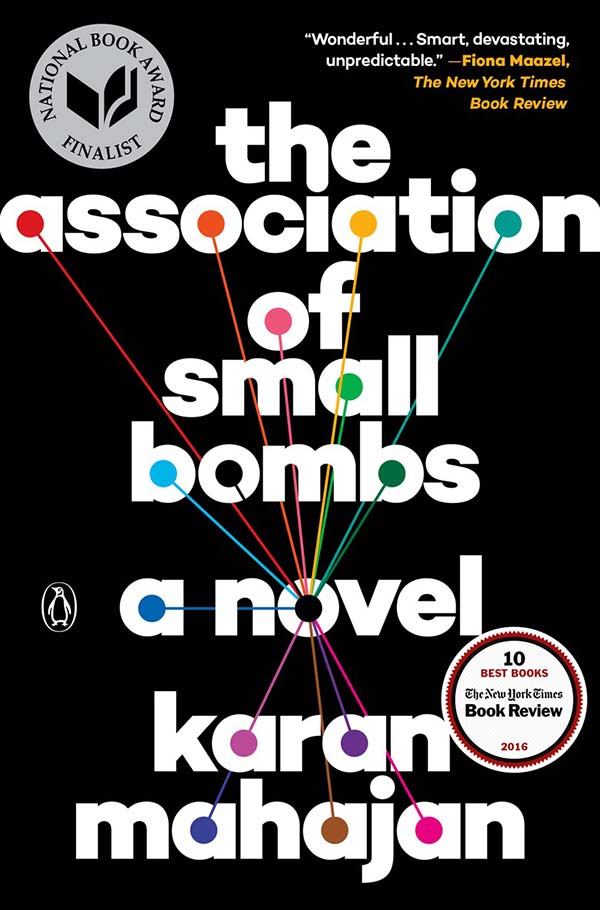 The Association of Small Bombs by Karan Mahajan is my first stop in the present. A 2017 Anisfield-Wolf book award winner for fiction, Mahajan's novel tracks the aftermath of a marketplace bombing in New Delhi. The novel begins with the statement "A good bombing begins everywhere at once." Readers learn a Kashmir dissident has detonated the device and that a Muslim and Hindu family are irrevocably damaged. Tender, brutal and often wildly funny, the story follows the aftermath through the perspectives of the victims, survivors, families and the bombers themselves. Mahajan sheds light on religious tensions, politics, bureaucracy and corruption, making this novel a thoughtful companion to Katherine Boo's journalistic masterpiece Behind the Beautiful Forevers.
Incarnations: A History of India in 50 Lives by Sunil Khilnani (2016, Farrar, Straus & Giroux). This fascinating book traces India's history through the lens of 50 people, some important historical figures, others obscure to me. I've met new poets, artists, musicians, scientists and religious figures. Sunil deftly wraps each story within a contemporary context – how a state continues to revere a certain figure, the religious implication of another – giving even the most ancient figures relevance. Khilnani, a scholar best known for The Idea of India, has inspired me to find and tackle the poetry of Basava (12th century), Kabir (15th century) and Mirabai (Meera, 16th century), who wandered North India singing love songs to Krishna.
Behind the Beautiful Forevers: Life, Death, and Hope in a Mumbai Undercity (2012, Random House) by Katherine Boo. This much-honored book won a Pulitzer Prize and has been sitting on my mental "must-read" list for a year. Boo spent many years following the fortunes of the residents of Annawadi, a ramshackle settlement in the shadow of luxury hotels ringing the Mumbai airport. An American who won a MacArthur genius grant before writing this first book, Boo is masterful at seeing what so many Westerners would miss in the enterprising teen trash-picker, the girl who is managing to attend college, the slum-landlords and duplicitous nuns.
The Hindus: An Alternative History (Penguin Press, 2009) by Wendy Doniger. This title, recommended by a friend, was a finalist for the National Book Critics Circle Award and represents the life's work of a leading scholar on Hinduism. (Khilnani references her work as well.) As India grapples with the religion's growing power within its contemporary politics, this fat book is timely. Doniger explores the intersection of the historical record with mythological worlds, examining Hinduism's classic resistance to standardization. She considers how Sanskrit and vernacular sources are rich in knowledge of women and lower castes, and how animals are key to important shifts in religious attitudes.
Kama Sutra, Bhagavad Gita, sections of the Mahabharata and Ramayana, the Puranas, Laws of Manu. I'll reacquaint myself with these beautiful foundational works as essential preparation for my travels.
Finally, my group will visit Lucknow, which was the center of a sophisticated courtesan culture well into the 19th century. I can't wait. In my class on the courtesan, I teach Umrao Jan Ada by Mirza Rusva (a pseudonym). One of the first novels written in Urdu, it follows the life of a fictitious Lucknow courtesan Umrao Jan. Steeped in lush images of the loves and tragedies of a courtesan life, Umrao Jan Ada immerses the reader in the social intricacies of Lucknow in the 19th century. (There are two wonderful Bollywood films, too.) The British shattered Lucknow's culture in 1857 in defeating the Sepoy Mutiny, which was partly bankrolled by local courtesans. Rusva paints the effects of that history and colonialism well.
Lisa Nielson is an Anisfield-Wolf SAGES Fellow at Case Western Reserve University. She has a PhD in historical musicology, with a specialization in Women's Studies, and teaches seminars on the harem, slavery and courtesans.