This Halloween, families can share a treat that lasts longer than candy corn: "Funny Bones: Posada and His Day of the Dead Calaveras."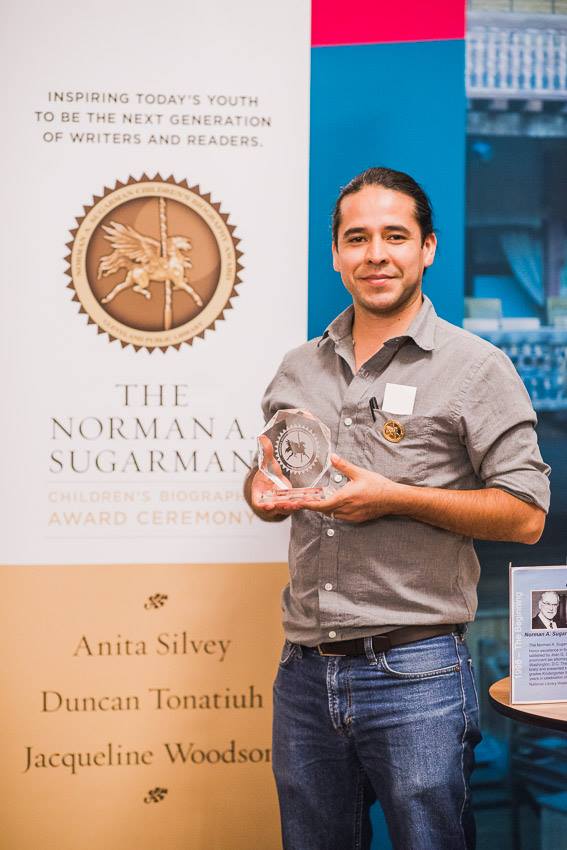 Author and illustrator Duncan Tonatiuh – his mother is Mexican; his father is American – came to Cleveland in September to accept a Norman A. Sugarman honor award in children's biography for the appealing, 40-page picture book.
It tells the story of Mexican artist and printer Guadalupe (Lupe) Posada, 1852-1913, who drew important political cartoons. The subject is best remembered for his whimsical drawings of skeletons – Calaveras – that have become synonymous with the Dia de Muertos (Day of the Dead) festival.
"Skeletons riding bicycles . . . skeletons wearing fancy hats . . . skeletons dancing and strumming on guitars," the book begins. "We call these festive bony figures calaveras. In Spanish, the world calavera [ca-la-VEY-rah] means "skull.". . . The skeleton figures are not scary – in fact, they look as if they're having fun."
Tonatiuh – click here for the pronunciation and intricate backstory on his name – leaves open to his young readers how to interpret the art. A two-page spread takes pleasure in asking what Posada's calaveras would look like nowadays.
Wearing jeans and a slate-colored shirt, Tonatiuh told his Cleveland audience that he hopes more people will learn about Posada. "He was very poor at the end of his life, so poor that he was buried in a mass grave," the author said. "He drew the skeletons that are so famous but we don't know exactly where his bones are."
Using both Posada's drawings and his own to illustrate this sophisticated biography, Tonatiuh gears the book to children ages 6-10, but this work is absorbing at any age. The contemporary artist draws figures only in profile; his distinctive style is influenced by the pre-Columbian art and scripts known as Mixtec codex. This makes "Funny Bones" instantly recognizable to anyone who has seen Tonatiuh's other books, "Pancho Rabbit and the Coyote," "Separate is Never Equal" and "The Princess and the Warrior: A Tale of Two Volcanos," which came off the presses last month.
"Thousands of children's books publish every year and very few deal with children of color, maybe three percent are Latino," Tonatiuh said during the awards ceremony at the Cleveland Public Library. "I hope this book is one that children who celebrate the Day of the Dead are excited to share with their classmates."
Tonatiuh told NBC News that "Pancho Rabbit and the Coyote," an allegory for a dangerous border crossing, caused a group of fourth-graders in Texas to send him a video telling their own stories of migration.
"I think kids are extremely intelligent," he told the broadcast outlet. "But I think that sometimes we don't give them the credit they deserve."