The first few pages of Crown: An Ode to the Fresh Cut look like a coronation. The 2017 children's book written by Derrick Barnes and illustrated by Gordon C. James features a young black boy holding center court, getting draped with a cape and surrounded by well-wishers.
The theme of the book is simple, Barnes says: to celebrate the black boy joy that erupts after a turn in the barber's chair. For Barnes himself, that feeling came on Thursdays as a boy in a Kansas City barbershop.
"I look at barbers as artists," he told the Kansas City Star. "After he did his job, he handed me that mirror and I didn't even recognize myself. I had a high-top fade trying to look like Big Daddy Kane. There's nothing like your mom telling you, you look cute."
The genesis of Crown was a simple portrait Barnes' friend, illustrator Don Tate, made of his son after a fresh haircut. Barnes, 42, wrote a poem capturing the essence of the portrait and James, 44, was tapped to illustrate, basing the main character on Barnes' son, Silas. The two initially met while working at Hallmark together nearly 20 years ago, but this is their first collaboration in the years since.
The duo saw Crown awarded "all the stickers" this year: Caldecott, Newbery, and Coretta Scott King Honors, as well as the Ezra Jack Keats New Writer and Illustrator Award, among others. But Barnes' literary career has weathered some bleak moments in the industry.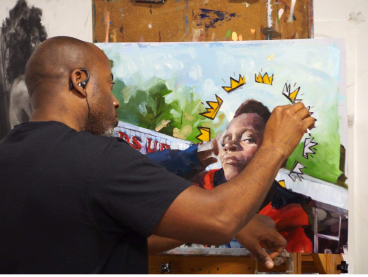 "When [my book] We Could Be Brothers came out in 2010, it seemed like [publishers] didn't like to put the face of black characters on the cover," he said from his home in Charlotte. "They'd have them shaded or have a picture of them from the back. Now I've seen more book covers, like Crown, where you see the beautiful black and brown faces of characters." Campaigns like We Need Diverse Books are moving the needle, he believes.
Crown is Barnes' ninth book: all have black protagonists of varying ages, a deliberate choice in his art. "As long as I write, I'm going to write books for the uplift of black children," he said. "Almost every week there's a story about children being mistreated. It's imperative for us to lift them up, inspire them, every single way we can."
Crown was in the first slate of books released by Denene Millner Books, an imprint of Agate Publishing. Millner, an author of 23 books herself, shared her vision for the imprint in a recent New York Times op-ed, "Black Kids Don't Want to Read About Harriet Tubman All the Time."
"The 'diverse' books making it to the shelves aren't very diverse at all," she wrote. "With few exceptions, the same stories are being told again and again, fed to children like some bowl of dry, lumpy oatmeal with just a sprinkle of brown sugar to make it go down a little easier."
Over a hundred copies of Crown made their way to Cleveland-area barbershops in advance of the duo's visit to Cleveland at the end of the month. Children in the barbers' chairs, capes affixed, will get to see themselves in the pages and the same joy in the mirror.