Viewers will have the opportunity to stream free Cleveland International Film Festival documentaries, all with an Anisfield-Wolfian flavor, from September 27-October 3. Coupled with each film will be an in-depth interview with the director, hosted by Cleveland State University professor Eric Siler. One new film will be released each day, available to screen from 11 a.m. EDT through 11 p.m. EDT.
Have questions on how to watch our film selections? Read our FAQ.
Monday, September 27
End of the Line: The Women of Standing Rock
Director: Shannon Kring

A group of indigenous women risk their lives to stop the Dakota Access oil pipeline construction that desecrated their ancient burial and prayer sites and threatens their land, water and existence. 90 minute runtime, closed captioning available
Tuesday, September 28
Down a Dark Stairwell
Director: Ursula Liang
A Chinese American cop shoots and kills an innocent Black man; suddenly two marginalized communities must navigate an uneven criminal justice system together. 83 minute runtime, closed captioning available
Wednesday, September 29
Voodoo Macbeth
Directors: Dagmawi Abebe, Victor Alonso-Berbel, Roy Arwas, Hannah Bang, Christopher Beaton, Agazi Desta, Tiffany Kontoyiannis Guillen, Zoe Salnave, Ernesto Sandoval, Sabina Vajraca
In 1936 Harlem, the first all-Black cast production of 'Macbeth' struggles to make it to opening night amid the downward spiral of their young and untested director – Orson Welles. 108 minute runtime, closed captioning available
Thursday, September 30
Anisfield-Wolf Book Awards Documentary
Join us for a crisp, one-hour documentary with historian Vincent Brown, poet Victoria Chang, memoirist Natasha Trethewey, novelist James McBride, and lifetime achievement recipient Samuel R. Delany. Jury Chair Henry Louis Gates Jr. will host. 56 minute runtime, closed captioning available
Friday, October 1
Apart
Director: Jennifer Redfearn
Against the backdrop of the opioid epidemic and rising incarceration rates, three Midwestern women face the challenges of mothering their children from prison. The documentary shows how they prepare to reunite and rebuild their families after years of separation. 86 minute runtime, closed captioning available
Saturday, October 2
Best Summer Ever
Directors: Michael Parks Randa, Lauren Smitelli
A fresh and exhilarating take on the beloved teen musical genre featuring eight original songs and a fully integrated cast and crew of people with and without disabilities. 80 minute runtime, closed caption and audio description available
Sunday, October 3

Landfall
Director: Cecilia Aldarondo
After the landfall of Hurricane María in 2017, Puerto Rico grapples with a devastated infrastructure and multi-billion dollar debt as outside investors descend—not to bail out communities, but to cash in. Set against the backdrop of protests that toppled Puerto Rico's governor in 2019, the award-winning "Landfall" shares kaleidoscopic glimpses of collective trauma and resistance. 91 minute runtime, closed captioning available
Friday October 1-Sunday October 3, Shorts Program 1 + 2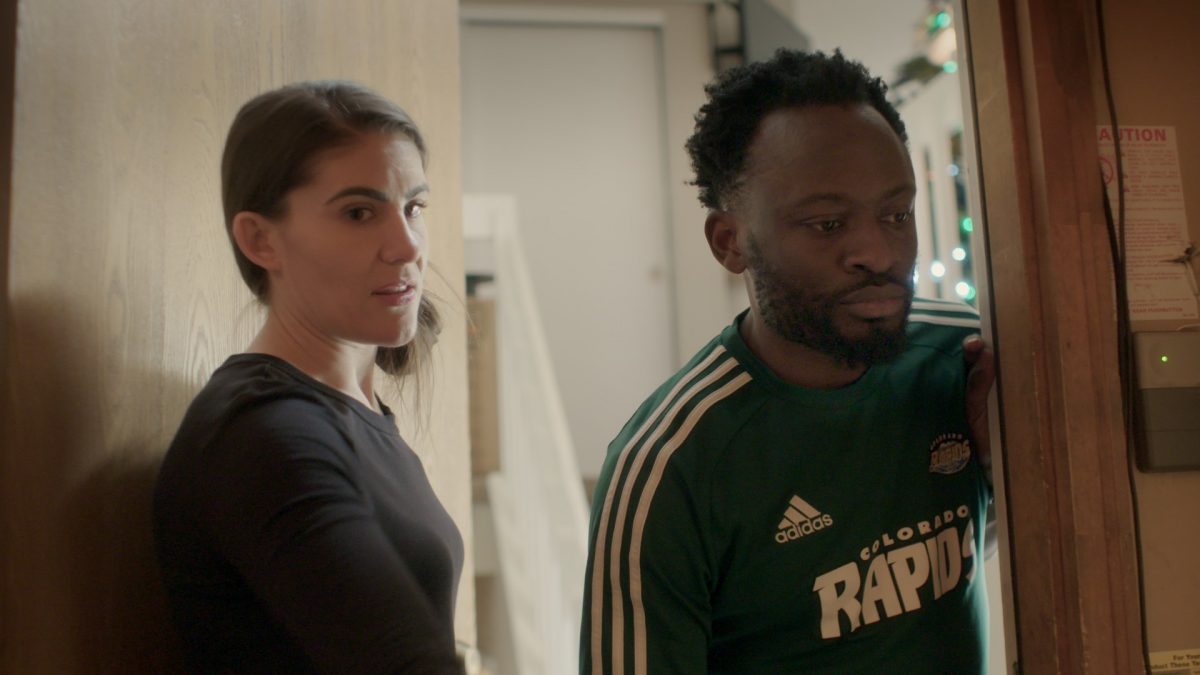 Diverse in tone and theme, these short films (ranging between 5-30 minutes) share a common focus on racial equity, diversity and social justice.
Shorts Program 1
Welcome Strangers
Sarah Jackson, with the help of a volunteer team, picks up legally released ICE facility detainees on the streets of Denver, Colorado, and invites them into her home, providing them with shelter and clothing while helping them reunite with their families.

We Can't Breathe
After the killing of George Floyd, a queer black woman in Los Angeles is determined to capture the spirit of a mass social movement, so she hits the streets, camera in hand.
Joe Buffalo
Joe Buffalo is an Indigenous skateboard legend. He's also a survivor of Canada's notorious Indian Residential School system. Following a traumatic childhood and decades of addiction, Joe must face his inner demons to realize his dream of turning pro.

Migrants
Two polar bears are driven into exile due to global warming. Along their journey they will encounter brown bears, with whom they will try to cohabitate.
Afro
After multiple encounters with her bully and a little academic inspiration, an African-American teen finally stands up for herself against classmates that question her cultural identity.
Girlboymix
Why is it so important to be a boy or a girl?
Estilo Americano
What is supposed to be a festive family gathering turns into an explosive showdown when siblings, with opposing political views, clash. Embroiled in the conflict, each family member reveals some painful truths. As everyone struggles with their own deeply ingrained beliefs, we wonder if the family can overcome their differences.
A Concerto is a Conversation
A virtuoso jazz pianist and film composer tracks his family's lineage through his 91-year-old grandfather from Jim Crow Florida to the Walt Disney Concert Hall.
Shorts Program 2

Disrupted Borders
Wendy (17) is an aspiring engineer who tinkers using parts from discarded electronics in hopes of making a 3D printed prosthesis for her best friend Shelly (16), an artist with double limb deficiencies. These young Mexican-American women reinvent cultural, gender, and ability norms against a turbulent backdrop of the border recently scarred by racist policies and attacks.

I Never Picked Cotton
Yolanda Morgan recalls her experiences with racism and the impact it has had on her. Produced in USC's CTAN 470 Documentary Animation Production class by 12 student directors.

The Water Walker
This documentary traces the roots, passion, and perseverance of young Autumn Peltier, an Anishinaabe-kwe from Wikwemikoong First Nation (Manitoulin Island, Ontario) and influential figure in the indigenous and global youth-led environmental movement. Follow her story as she prepares to speak at the United Nations.

We Are Free Because of Harriet Tubman
This lyrical documentary is a meditation on resistance, nature, and history. Professor Sonia Sanchez's words speak to us today as many in America struggle to find their own liberation.


Yellow Brick Road: The Jose Rodriguez Story
José Rodríguez is a current PGA Tour golfer who had a miraculous and equally turbulent border-crossing experience as an undocumented Mexican immigrant in the mid-1990s. This film chronicles José's astounding personal journey, revealing an American Dream that's not always the fairytale it seems.

Americanized
Growing up in Oakland's hip-hop culture, Eng struggles with her Chinese American identity. To her high school basketball team, she's just that girl who sits on the bench; but to the Asian kids she's "Americanized." As her sophomore year of high school comes to an end, Eng tries to find a sense of belonging within the two worlds that don't accept her.

Tangled Roots
This film follows Attica Scott, the only Black woman in the Kentucky Legislature, as she fights to dismantle a system of discrimination against Black people penalized for something seemingly innocuous—their hair.

The Little Tea Shop
While the evolution of downtown Memphis has ebbed and flowed over the past 100 years, The Little Tea Shop restaurant, founded by two women in 1918, has been a constant. The welcoming feeling fostered at The Little Tea Shop encourages relationships that in turn create connections and opportunities. This film explores how the atmosphere there created a perfect place for Suhair Lauck, a Palestinian immigrant, to take over in 1982 and how she continues to embrace and cultivate the magic that is The Little Tea Shop.